Inspired by the native name of Singapore Island, Ujong Gourmet pursues the revival and modernization of longstanding Asian family recipes. Embark on a rich and varied culinary journey with Ujong Gourmet as we seek to explore the Kaleidoscope of South East Asian flavors.
ARTISANAL COCONUT JAM
Inspired by founder's grandma's traditional family recipe. The Peranakan spirit continues to inspire and define the founder's interpretation of heritage food through his personal recollection of food encounters.

SHOP COLLECTION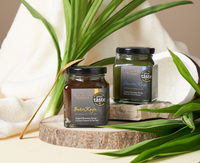 BOTANICAL FLAVOURED COFFEE
Ujong Coffee offers small-batch roasted 100% Arabica coffees from old-world producing countries around the world. Each blend is crafted to bring an euphonious ensemble of coffee notes with the nuances of florals and herbs. A bold approach inspired by our love for coffee and botanicals.

SHOP COLLECTION
HERBAL TISANE
Gathering inspiration from our Asian roots, Ujong Gourmet Herbal Tisane range features herbs, florals, and spices that represent the diversity of our Asian heritage. Crafted by the rich imagination of Ujong Gourmet's master tea blender, these herbal blends will sooth your senses, promising a calm respite from the urban hassle.

SHOP COLLECTION
ARTISANAL BAKED GRANOLA
Prepared with gluten-free rolled oats, a source of wholesome fibre and protein, Ujong Gourmet granolas are best eaten with fresh milk, plant-based milk, or simply as a topping on your favorite yoghurt or gelato!
SHOP COLLECTION